(If you wish to read more about my mother read on, to return to the main page, click Home....)
Prev
Jim
Next
Contents
Jim. I had known my future husband, Jim McIntyre, for ten years before we were married in 1934. His eldest brother John had come as a newly-ordained priest to the parish of St Michael's, Parkhead in 1920. My friends Cissie Pierce and my sisters and I went to the dances there and sometimes to Confession. One of us, probably my sister Mary, was cheeky enough to ask the new priest in the confessional if it was true he was from Fanad, and the upshot was that we came to know him quite well. I don't remember if it was through this friendship that Jim came to see us soon after he arrived in Scotland, but he might have come anyway, since our home in Tollcross was a port of call for any young person from Fanad taking the emigrant's road for the first time.

Jim and his brothers and sister had all been born in the Townhead area of Glasgow. His father was Tommy McAteer from Doaghbeg on the Lough Swilly side of the Fanad peninsula, a clerk who worked in one of the great Glasgow railway yards which built locomotives for the whole world. Their mother was Mary Devine from a family which also had Donegal roots and was well known in the East End of Glasgow. At what point the Donegal 'McAteer' became its Scottish equivalent 'McIntyre' is a bit of a mystery, but the future Father John's birth certificate survived among family papers and the 1895 signature on it is 'Thomas McIntyre'. [I have checked the register at St Mungo's Townhead, and find that he was married to Mary Devine - who lived just across the road from the church - as Thomas McIntyre, and that his parents' names are given as John McIntyre and Sarah McIntyre. A family tradition says her maiden name was in fact McIntyre. - JM 1998]

Mary died after givimg birth to Mamie, the only girl of the family, in 1906. When the funeral to Lambhill Cemetery was over and she had been laid to rest in the grave that held two sets of twins who had died in infancy, other members of the Devine family generously offered to take one or other of the younger children, Ignatius, Jim and Mamie, into their own homes. But their father said -'Where one gets a bite, they'll all get a bite' and sent off the three of them to his parents' home in Doaghbeg to be brought up with their cousins. So Jim became a Donegal lad, part of a very extended family which already included two or three motherless children and the first of seven children of his uncle James. Jim's grandfather was a patriarchal figure called John Roe, who lived on till he was close to one hundred years of age, and formed a close bond with his little redheaded granchild who as he grew up became very inquisitive about the old days of the famine and the landlords.

His father tried for a little while to keep a household going in Glasgow with the eldest son John, now at St Mungo's Academy. But it didn't work, so after a year or two John joined the rest of the family in Fanad, and went off in due course to board at St Eunan's College in Letterkenny. His father lived out a widower's existence in digs in Townhead, only seeing his family during the precious Fair Fortnight in summer. There are stories about him as well: how sometime in the 1870s, seeing there was nothing for a younger son at home, he stole a pair of his father's boots and set off at the age of fourteen to try his fortune in Scotland; how he got a job on the old horse-trams because he looked older than his years, and worked at that while he acquired enough maths and book-keeping at night-school to qualify for his clerk's post in the engine yards.

Tommy McAteer from his first years in Scotland made a few extra shillings working at night in the Shuna Bar in Duke Street. This provided him with a yarn which I'm sure lost nothing in the telling, of how one Saturday night a crowd just back from a charabanc trip to watch a football team called Edinburgh Hibernians invited him to chip in a half-crown with them to start a fund for setting up a rival Glasgow team. They proposed to call it 'Glasgow Celtic' - with a hard C, or so he said. Anyway he was far too prudent a young man to waste hard-earned money on such a shaky enterprise.

He never stopped building on whatever foundation of education he had received in one of the small rural schools Lord Leitrim grudgingly permitted to be set up on his Fanad estate. Jim claimed the railway company recognized his father's ability sufficiently to get him to draft their reports on things like industrial accidents. I can attest that long after his son was a working teacher letters would sometimes come back to him from Townhead with slips in style and usage neatly corrected.

My future husband himself was not a very willing scholar in his own young days. He carried harsh memories of some months spent with a hard-grained priest-uncle, the Reverend John McAteer, at Edeninfa in the south of County Donegal having enough knowledge pounded into him to pass for St Eunan's College. (Fifty-five years later when we were both retired and had sons willing to drive us about we visited that district; and the first man we talked to by the roadside remembered the boy from Fanad who came with his wee sister to live a few months at the curate's house and attend the local school.) The same uncle, though not the eldest of the previous generation, was the power in the family, and made few bones about his expectation that young Jim was to follow his elder brother to Maynooth and the priesthood. So there was something more than disappointment shown when Jim firmly set his mind against the idea in his last school year. Jim always remembered the final day when he set off from the battlemented College above Letterkenny town, riding the bicycle which had been a senior pupil's privilege, and heading out the Mountain-top road in the summer sunshine, knowing that there was music to be faced before the day was out. 'Let him follow the plough,' his uncle said. But his word was not law to his older brother in the Townhead and Jim, who had done well enough in his examinations (even in the Gaelic which the new Irish Free State had suddenly made compulsory) to get National University matriculation, set off via Glasgow for the Teacher Training College in Dundee.

I can still picture Jim as I first saw him, a very gauche young man, just my own age, with vivid red hair and a really awful blue suit which offended my Art School ideas of taste. I suppose we must have talked and laughed about that first evening later on, when he began to come about the house more often during the breaks from his teacher training which he spent with his father in Glasgow. There was certainly something of an understanding between us by the time he completed his three-year course and found his first appointment, on the teaching staff of a boys' reformatory.

I think that, rather like myself, Jim and his friend Charlie McMonagle from Knockfola in the far west of Donegal were glad to find a post anywhere, but this was certainly the strangest work they ever had to do. The reformatory was more in the nature of a prison-ship, sited on an old warship of the Royal Navy called the Mars which lay in the Firth of Tay during the winter and off the Fife port of Elie in summer. The Mars Training-ship, to give it its official title, was run on naval lines and even classroom teachers had to wear petty-officers' uniform and take their turn on watch. The teaching task was not onerous and discipline was surprisingly easy: the regime outside the classroom was so rigorous that the pupils - most of them young criminals but including some who were simply homeless - perceived the teaching periods as times of relief. The superannuated Navy personnel who officered the system, brought up in a brutal school themselves, had little sympathy or mercy for their charges, and would no doubt have claimed that harsh and immediate punishment was the best treatment for such lads and prepared them for the Service life for which almost all were destined.

Among those boys was the brightest pupil Jim ever taught - at fourteen he would devour a book like Carlyle's The French Revolution and understand all he had read. He had no criminal record and was on the Mars because there was no-one to take care of him and nowhere else for him to go. In due time he went like the rest to the Army, and wrote to Jim occasionally until the beginning of the Second World War. Talents of other sorts were not lacking - there were enough fine voices among the hundred or so boys to provide a good choir, and these would have a much-coveted outing from time to time to Dundee to sing at a concert or take part in one of the very early broadcasts. The really precious thing, however, was the day or two at home at Christmas which was earned by good behaviour over the year. It was denied to everyone one year because nobody would admit to having vandalised the training- ship's piano, and in a curious episode a boy newly on board, who had nothing to lose but his skin, made a false confession and stoically suffered a savage public beating so that his companions could have their privilege.

Having to take watch at night from time to time was one of the drawbacks of life on the Mars. Two staff-members would be required to stay awake and leave the comfort of the cabin at fixed intervals to patrols the decks. One dark night there was what seemed like a brush with the preternatural, when Jim's companion came rushing back down from his patrol, white as a sheet and saying that he had met his own father on the dark upper deck. His father as far as he knew was alive and well some hundreds of miles away; but in fact he had met with a sudden and tragic death on that very night. The story sounds like many another one, and may have been just a matter of nervous imagination and a sad coincidence. But Jim told such stories well, and it made a nice companion-piece to a story of poltergeist activity Jim had from his priest-uncle, to be told to our children around the holiday fireside. Maybe I'll find room for that other story later on.

I remember prevailing on Jim to bring his uniform on one of his visits south, and we laughed to hear a street-urchin say 'See him - he's a Captain'. By that time we had got into the habit of going for long walks together, and we had no trouble finding other things to talk about besides Jim's experiences on the Mars or my own art teaching in Greenock and Glasgow. We had our own dreams, of course, even though with my salary very much needed in the Callaghan household it seemed we would wait forever to see them fulfilled. We were drawn together by many things. He had become an avid and serious reader, and there was something special in the fact that he could talk easily and enthusiastically about history and books and the controversies of the time. Chesterton and Belloc made up a lot of the library he was building up from slim resources, but there was room for poetry and biography and books like Thackeray's The Four Georges, which was a great favourite of his father's. Our common interest in poetry counted for a lot. There cannot have been very many couples walking the roads between Tollcross and Bothwell reciting favoured bits of verse to one another, and few young men who would have got their fiancee a first edition of W.B.Yeats' The Tower as a present. I need not tell you that Jim was the one who really seemed to care about my drawing and painting. When most of those around you take your little talent for granted, and see it as a lucky gift that got you a good job, it is something to have a person beside you to take delight in the moment of creation and encourage you when the colours go muddy and things won't work.

Our romance did not get a lot of encouragement from other people. 'In your sane moments, Cassie,' said the irrepressible Cissie Pierce, 'could you ever see yourself marrying that red-headed Irishman?' 'It's in my sane moments that I want to,' said I. And so even the postman grinned as he met me at the gate on my morning dash for the train or tram, and handed over the inevitable letter. My parents and family liked Jim, but my mother, apart from the fact that she needed me and my pay, quite naturally expected the handsome and vivacious Susan to be the first to announce an engagement to one of the many desirable young men she met through University or school or the Gilbert and Sullivan Opera Society. Jim's elder brother John, being a curate in a busy city parish, was more worldly-wise than us and would try in a roundabout way to warn us of the dangers of being together a lot when marriage was still a far-off prospect. He worried too much: Jim and I had a very firm grip on what was right and what was wrong, and a lot of respect for one another. Years later when I began to feel that I could have taken a stronger line with my mother, and told Jim I was sorry he had to wait so long, he just said - 'Ah, but you were worth waiting for', and that was the end of it.

In due time Jim got a post in St Margaret's school in Airdrie, and could see me more frequently. He sometimes walked the eight or nine miles from his digs in Queen Victoria Street in Airdrie to our home in Tollcross, which gave him some exercise and saved a shilling or so for our frequent visits to the theatre. We saw all the great actors and actresses of the day in Glasgow - I have a vivid memeory of Sybil Thorndike in Shaw's St Joan - and were not at all worried that our seats were the cheapest in the house. Going to the theatre was very much an accepted thing. My little sister Rosemary told the story of my mother, in town with her for some other purpose, taking her to the theatre, and because the house was almost full and she didn't want to disappoint the wee girl, committing the unheard-of extravagance of taking a box. And then Jim and I had had a taste of acting ourselves - I with the St Joseph's drama group and Jim in Dundee when he acted Sir Lucius O'Trigger in a College production, and was complimented in the local paper for 'successfully sustaining a light Irish brogue'.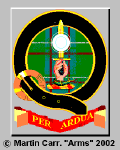 To read now about marriage, and a family, click click here To return to the top click here.
HIT NUMBER